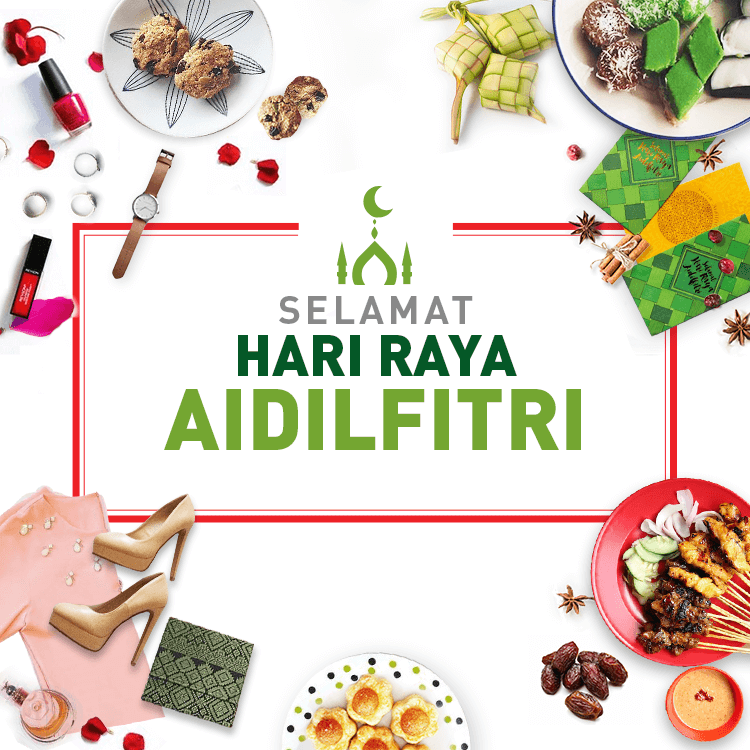 COLLECTION
/
Hari Raya Aidilfitri
Fried Chicken Master Rendang Sporty Jimbo Promotion
Food Republic Ramadan Promotion
Swarovski Green Packets Promotion
ONEKM Hari Raya Promotion
ONEKM Shopping Mall Hari Raya Festive Treats
The Great Singapore Sale continues with more timepieces on SALE! Check out our best buy recommendations at any City Chain stores today. While stocks last! #CityChainSG #GreatSingaporeSale #Sale
Yes, that's right! If you shop with us this weekend you stand the chance to win a 100% CASH BACK. We make one out of every 50 shoppers super happy. Winning is easy: shop with us until you drop (online at http://shopmoda.sg , at Ion Orchard, Takashimaya or IMM) and make sure your order is linked to your email address. Every order with email address automatically enters our Lucky Draw. We'll contact you if you are a Lucky Winner. Terms and Conditions: • This lucky draw is available from 23rd to 24th June. • Winners are selected based on per cart checkout. • Multiple checkouts can be done to increase the chances of winning, but only one checkout is entitled to the winner. • Please be advised that refunds will take about 2 weeks to process.
Our June storytelling session is happening tomorrow! Come by to Cluny Court to listen to a story of a terrible troll living under the bridge. Can the goats cross the bridge safely? The Storytelling Centre Ltd Singapore Suitable for ages 3 - 7 years FREE Sunday 24th June 12pm - 1230pm Cluny Court - Level 2
L'ATELIER BY THE HOUR GLASS
/
Highlights from ULTRA Singapore. With almost two decades of progressive music festivals to its name, ULTRA has cultivated a loyal following of music lovers and fans of EDM. As the exclusive partner of Hublot in South-East Asia, The Hour Glass and Hublot took the audacious step last year to feature the watchmaker as the official timekeeper of ULTRA Singapore. As part of 'The Art of Fusion', Hubot has forged creative partnerships with eminent artists and creatives such as Chen Man, Lang Lang, Tristan Eaton, Depeche Mode, and founder of the famous tattoo studio Sang Bleu.
The perfect way to start the week = x2 JPoints for Jadeite Members' Day! Dine with us on 25 June to enjoy this exclusive privilege. #crystaljade #crystaljadesg #cjadeiteday #crystaljadeite
Introducing the NEW Magnolia Plus Lo-Fat Hi-Cal milk with Oats in UHT format. It's high in calcium, low in fat and contains Beta Glucan. Wait no more, grab your healthy boost today!
Just a few more days before our vacation retreat ends.. We will be back to open our inbox pretty soon! Stay tuned for our great web launch for awesome deals! Early birds enjoy up to 50% off retail prices for quality leather goods!
Gudetama 5th Anniversary ez-link cards still available! Earth to Sanrio fans! Celebrate Gudetama's fifth anniversary with these ez-link cards; individually available at selected Popular Bookstores and UrbanWrite outlets* at $10 each (no load value)! Each customer is limited to 5 pieces (combined design quantity) per transaction. *Bras Basah Complex, Westgate, Marine Parade Central, Jurong Point, Northpoint, Compass One, Causeway Point, Junction 8, NEX Mall, Tampines Mall, Punggol Oasis, and UrbanWrite Northpoint City & UrbanWrite United Square.
Be sure to join us on 30 June (Sat) 4-10pm, for a day of great fun and food! Expect lots of activities for kids and adults alike! Open to Public. See you there! Venue: Singapore Amercian School
4 delicious subs, one awesome deal! Complete with a 16oz drink and a cookie of choice at $5.90. Everyday Value Fresh Meals are available at all Subway® restaurants island wide. T&Cs apply: http://bit.ly/SubwayxEDVRefreshed
This 2018, due to popular demand from young parents for our parent-accompanied programmes, we, the team at Dreamkids Kindergarten (Singapore), our parent organisation, unveils our Infants and Toddlers' Playground, specialising in the holistic development of children of ages between 12 months to 36 months through sensory play. Sensory exploration is a child's way of examining, discovering, categorizing, and making sense of the world they live in, and it's beneficial to provide them with opportunities for sensory play.​ Infants & Toddlers Playground is a big fan of sensory play. We always start with our Hello and stretching songs as singing is fun! This is followed by other themed sensory activities, structured and unstructured play time such as bubbles time, parachute time, massage and lap time which you will enjoy with your little one. Come and experience our award winning programme with your little one on 27 June, Friday at 3:30pm. To register, visit https://www.experiencedreamkids.com
Spending most days on your feet at work calls for wearing the most irresistibly comfy summer sandals: https://bit.ly/2MNa78Q
Who can resist digging into freshly imported fish from Japan! Definitely not me! Let us knock you out your SENSes with the different ways to preparing your favourite fish! Come early as stocks run fast! For reservations, call us at 6262 5618. #senssingapore #sensdining #raffleshollandv #japanese #seafood #sashimi #teppanyaki #dessert #foodstagram #sgfood #foodsg #exploresingaporeeats #sgcafe #sgrestaurant #sgfoodies #sgigfoodies #burpple #8dayseat #stfoodtrending #nabemono #sgcelebration #sgpromo #sgdeals #suntorybeer #lunch #dinner #sake
DISCOVER THE 7 #MONCLERFRAGMENT HIROSHI FUJIWARA COLLECTION AT https://on.moncler.com/2tvrMsO _ CHECK OUT OUR INSTAGRAM STORIES FOR AN EXCLUSIVE TOUR OF FLORENCE WITH A GROUP OF #MONCLERFRIENDS. _ #MONCLERGENIUS #HIROSHIFUJIWARA
Wow! Brazil really made good of the extra time to seize the win. Gripped by the football fever? Enjoy more action at McDonald's® with our very own star players.
Diamonds or without? Gold or steel? What colour dial and strap? It's entirely up to you with the new Piaget Possession watches! This piece here comes in white gold and a halo of diamonds on the outer rotating bezel. A subtle but classy silver dial is set with gem for the hour markers, with the Piaget logo replacing the marker at 3 o'clock. The dark blue alligator skin strap can be interchanged easily with a second red strap to match your outfit. Discover the new collection in our boutique at Paragon and the newly revamped Raffles City boutique. #Piaget #PiagetPossession #Possession #Diamonds #DiamondBezel #GemSet #PiagetWatch #CortinaWatch #LadiesWatch #WatchesForHer #WatchesForWomen #LadiesFashion #LadiesLuxury #LuxuryWatch
LUMAS - Photo Art Gallery
/
ART IS LOVE LUMAS offers selected works by these artists as hand-signed original photographs. Our goal is to make high-quality photo art affordable for everybody! Special thanks to @doclaszlo for this nice Instagram shot of our LUMAS gallery in Berlin, Hackesche Höfe. Find a LUMAS gallery near you here: www.lumas.com/galleries
Come for the best Cornell deals, at Expo Hall 6B. From today, 22 to 24 June 2018! Be there or be square!
Luminox is proud to be the official timekeeper of Rock'n'Run, a Swiss obstacle course race that pushes its participants to the limits. Day or night, no challenge is too tough for Luminox or the competitiors who wear our watches .
Dressing Up Neutrals | Meet our weekly new arrivals through the link in bio. Shirt: http://1.mng.us/bdN330kCg0H Trousers: http://1.mng.us/RkGl30kCg4y #MangoSS18 #Mango
Show by :
Newest first
Starting soon
Ending soon